Our Girls
Welcome to my Girl's page.
Elsa is the stunning daughter of our Supreme Champion Merlin. Elsa was bred by Molly & Michael Nye of M&M Bloodhounds in North Carolina USA. Elsa was imported from the USA in July 2019 & was shown very lightly upon arriving, just to get her used to the Australian show scene.

At her first show in 2020 Elsa was awarded Runner Up to Best Exhibit in Group (81 entries) at 16 months of age. She was shown regularly until COVID 19 hit, thankfully attaining her Champion title before the lock down, having been awarded numerous Classes in Group along the way. At the time of writing this, COVID 19 restrictions were still in place, so no further showing was allowed.
Elsa is also an absolute natural at Tracking & had two qualifying passes in the 2020 season towards her TD title. Hopefully she'll pick up where she left off in the 2021 season & get that title. She LOVES the sport.
With luck, Elsa will be adding to our genepool in 2021.
Elsa's health clearances
*Hips 6/6 (equiv OFA Fair or International B) *Elbows 0/0 *DM Clear *Heart Clear by Echo & auscultation with Cardiologist.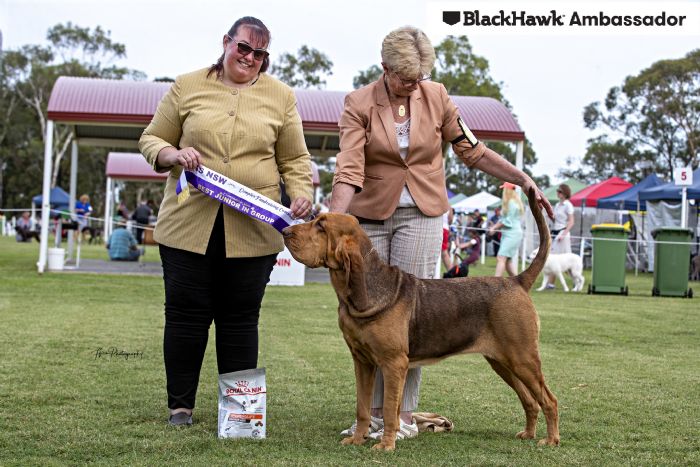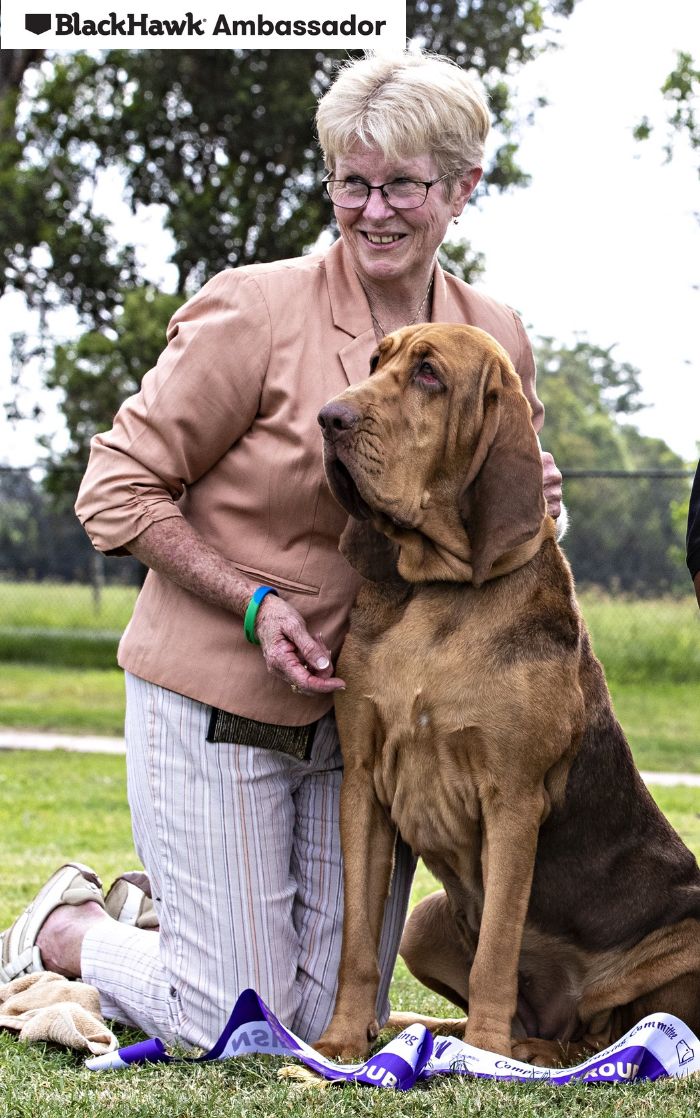 Maja is our gorgeous Swedish import & the canine clown of the family. She was imported to Australia for her genetic worth as well as her beauty. She is currently being campaigned in the conformation ring and achieved her CH title in February 2011. Maja is such a wonderful hound to show & had done extremely well thus far - her wins include Hound of the Year 2011 (Hound Club of NSW), BISS, RUBISS, BIG, RUBIG, Class in Group & Class in Show.
As well as competing in the conformation ring, 2012 saw Maja compete in 4 tracking trials, where she easily passed each track, and attained her TD title. Hopefully she will pick up where she left off in the 2013 season. Maja is such a delight to have around, all she wants to do is please you & be with you....
Sadly we lost out gorgeous Maja after a swift illness - She was 11years & 2 weeks when she passed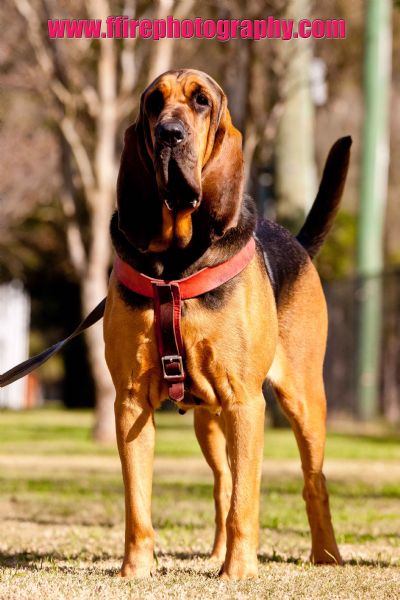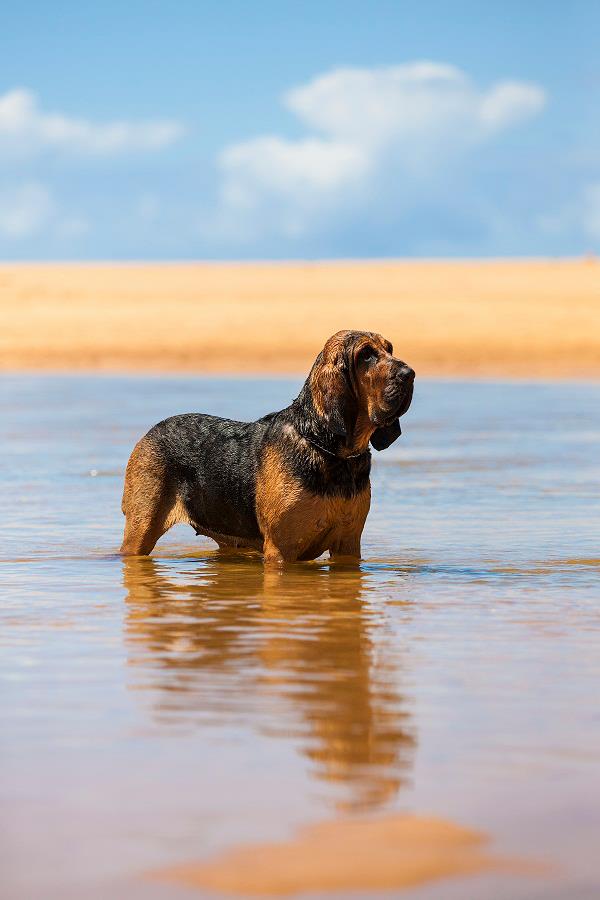 Charlotte is the gorgeous daughter of our Belgian import Ch. Loamy Lane's Jewell & US Gr Ch. Heather's Where Eagles Dare (Yeager). Charlotte is a stunning girl with very correct conformation & moves like a dream. She did extremely well in the ring as a Baby Puppy winning numerous Baby Puppy In Group/In Show awards, but due to no fault of her own she had alot of time out of the ring when Maja had her first litter. After 6 months out of the ring I entered her in a few more shows, she was once again awarded some classes in Group & In Show but she clearly was not enjoying her experience. As Merlin was doing so well I decided not to 'drag' her along any more, so she never got the chance to finish her Champion title. In 2016 she enjoyed some time in harness & competed in one Tracking trial where she passed easily. Hopefully in 2017 we can continue in harness & add a Tracking title to her name.
Sadly we lost Charlotte to cancer on New Years day 2019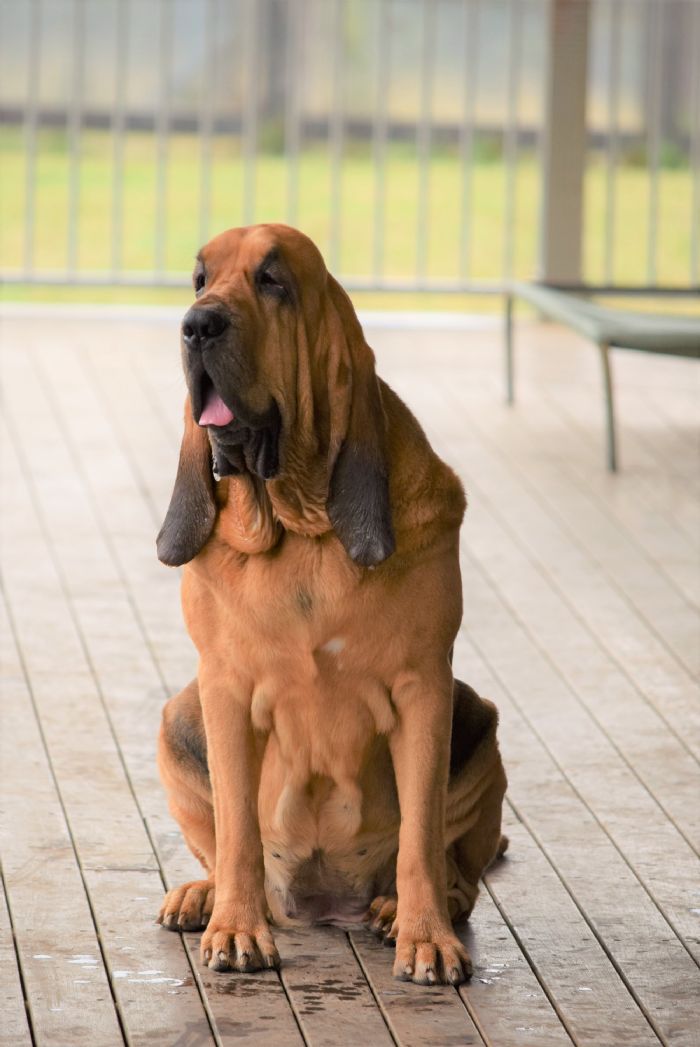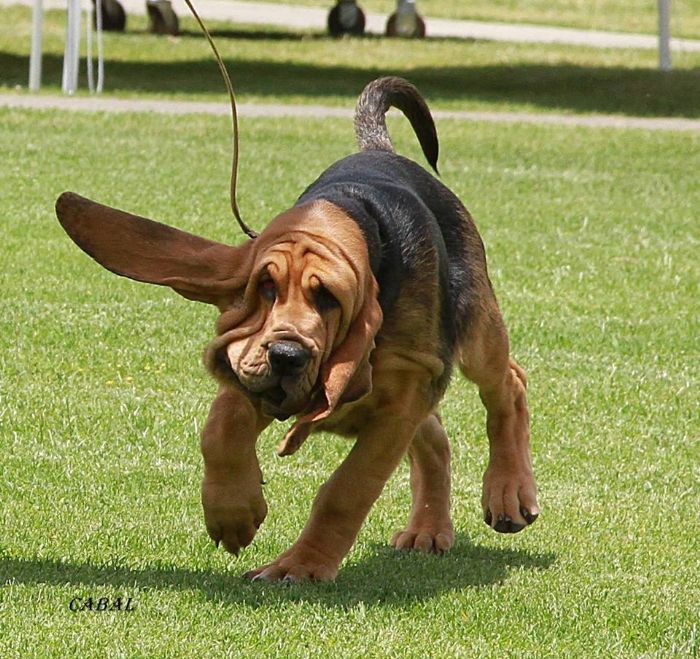 Charlotte's health clearances - Hips 7/7, Elbows 0/0, DM Clear by parentage, Heart Clear/Normal (Cardiologist)
Eve was my introduction to Bloodhounds, so I can now blame her for my obsession. Eve is the most serious of my hounds....very much the alpha and doesn't take any rubbish from the others. She is the smallest yet rules the roost!!Eve was initially trained to mantrail, with the hopes of being utilised by the services here in Australia. Unfortunately this just wasn't going to happen, so after a lot of thinking I decided to have a dabble at tracking. Initially it was not easy as she was so proficient at 'airscenting', but after a few months of training the penny started to drop. In 2010 Eve competed in 4 tracking tests & passed all of them with either a score of 'excellent' or 'very good'. Subsequently she earned her TD title. The 2011 season was just as successful with Eve achieving her TDX & ultimately her T.Ch (Tracking Champion) title in August. Eve is one of only three Bloodhounds in Australia to have ever achieved the T.Ch (Tracking Champion) title!!
Jewell is our eagerly awaited import from the Loamy Lane's kennels in Belgium. She is a stunning bitch puppy with loads of substance and type, yet still looking very feminine. I had the wonderful opportunity of going over to Belgium in March 2011 & stayed with Linda & the 'Loamy Lane's girls' and had a delightful time. I was extremely impressed with the temperaments on the puppies as well as their overall type....it was consistant throughout the litter. Jewell was very lightly shown by Linda whilst still in Belgium, giving her a good grounding for when she finally arrived in September 2011. Since arriving Jewell has won numerous BOB's, Class in Group's & Class in Shows.
We are thrilled & excited to have a Loamy Lane's bloodhound here at Hunterhound.
Sadly we lost Jewell to cancer in 2015....her daughter Charlotte keeps her legacy alive!!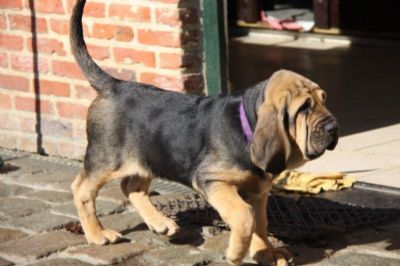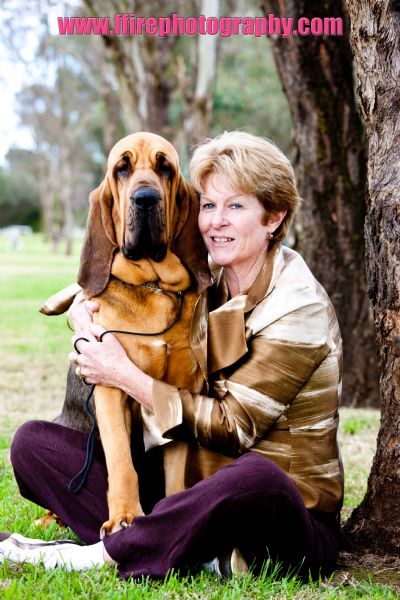 ---
Contact Details
Michelle Ashpole
Hunter Valley, NSW, Australia
Email :
[email protected]